Publications:
Stories from "The Kaylee Book" include:
"The Kaylee Book"
(by Mike Walton)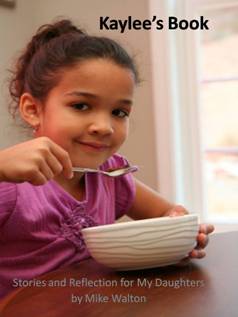 Updated 8 May 2014
My second former wife gave me a reflection book for Christmas one year in the middle 90s, in preparation in part for the arrival of our child we were planning. Although we practiced hard and many times over, the child was not to happen. So we did the next best thing - arranged for foster and eventually adoption. My book - Kayleeanne's book -- reflects my answers to questions posed by Terri Gibbs in the book "A Father's Legacy" and was used as part of the process toward foster care and adoption.
Excerpts from the book are listed to the left.
The collection will be available from Lulu as soon as I can provide my editor a final draft of the collection. It will become the second or third published item -- which is great.