Need a good, cheap, and motivated public speaker? Pick ME!
Has this happened to you, your unit, your District or Council, or other organization before?
You get Senator Big Bag, or Congressman Blow Hard, or the head of the local Big Company, Inc. to come and speak at your son's Eagle Court of Honor, or at your Council or District's Recognition banquet or during a business conference or meeting of your organization. You expect that the Senator, Congressman or President/Owner knows something about Scouting; after all, he or she has received an award from the Scouts or have served as a member of the board of directors of the local Scouting organization.
He or she gets there, and instead of motivating and entertaining Scouters, he or she turns it into a discussion of his or her political philosophy or starts expressing his political slant; or in the case of Mr. or Ms. Big Company, can't really relate to Scouting and calls everyone "Explorer Scouts" or "Junior Scouts" or "Club Scouts"...or what's worse, reads from an (obviously) prepared "speech", hastily prepared by the professional staff or some volunteer at (almost) the last moment....
The effect is, your event is lackluster, nobody comes because "we've heard his spiel on the evening news", or worse, because "she's not a Scouter...how can she relate to US? What message can she give MY SCOUTERS or MY SCOUTS to motivate them and encourage them?"
You need a public speaker that's good, cheap, and motivated toward doing the best job possible for your audience. You need someone who KNOWS Scouting and experienced it as a youth and adult member.
You need ME !!!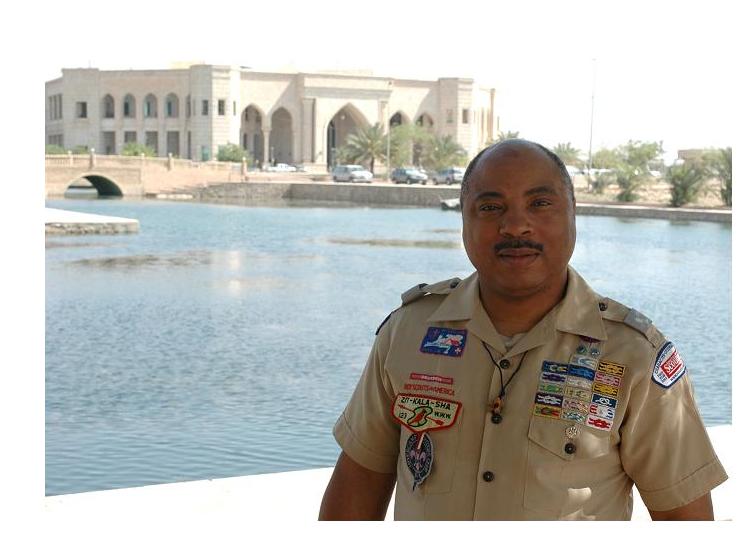 This photo is available in either
JPG
or
TIF
format.
---
Good
That's a relative term, but in the past twenty years, I have been to over 75 local Councils, mostly in the old Southeast and East Central Regions, to well over 420 individual Troops, Packs, and Posts/Crews, and to over 550 community organizations and churches, expressing my personal Scouting story and the need to continue to support Scouting and the local Council. I must be doing something right, because I get 30 requests a year to participate, serve as keynote speaker of, or just to share my "scouting stories" with those at the Roundtable, University of Scouting/Commissioner's Conference or at a Troop or Pack meeting! I leave them with a warm feeling about being involved in the program, they give because they have heard from someone that it has impacted upon positively, and they tell others "Hey!! You really missed the banquet!! There was a guy there that REALLY knew what he was talking about...he was GREAT!!!"

Here is a link to a recent speaking engagement.
Cheap
There's a federal law, which I hope gets repealed but am not crossing my fingers or relying on my elected representatives to do anything about. Basically, this federal law, part of the Ethics in Government policies enacted during the Carter Administration, states that "federal appointees, members of the executive branch or their staff members and commissioned officers of the Armed Services (like me!) may NOT receive compensation of ANY kind other than reasonable travel and lodging costs for.....a public speaking engagement, even if the subject of said speech or address has NO RELATION to the speaker's official duties."
This law has been revised in 1998 to allow those in the military (reserve or active) as well as those in the federal government service (like government employees and of course, politicians) to accept a "reasonable amount of compensation" for speeches and presentations "outside of their normal scope of knowledge" and unrelated to their governmental role. Yea! This means I can *finally charge* for what those outside the military have been getting paid for!!
Regardless of event, I charge a flat rate. Under the present policy, I can charge only a rate for speaking, along with any expenses for my travel and from the event, for reasonable lodging arrangements and for the cost of dinner at the event. As a matter of record, I have NEVER charged more than those costs, along asking for a coffeemug, a patch or emblem or a certificate from the event. (I ALWAYS have in my car a sleeping bag, cot and tent, so I do not have to be "put up" in a hotel or at someone's home; and fast food or dinner at someone's home is just as good as a nice dinner at a restaurant!).
If I charge, or even ask, for anything more than this, I am subject to a fine of at least $12,000.00, can be imprisoned for two years, and naturally, lose my commission as a military officer. So, I make it a matter of record that I am a LOW COST public speaker, and that I will travel just about anywhere as long as I am compensated for the travel to and from, that I have a place to rest my head and change clothes, and that I get something to place in my officeroom to remember the occasion by.
(Because public speaking is competitive, I do not post my speaking fee online but believe me, it is very reasonable and affordable by all but the smallest Scouting units and communities. If my mom's NAACP chapter can pay my fee to speak at their event, I know it's a good reasonable fee! *smiling*)
Try asking your Senator, Congressman or Mr. Big Business to do the same....
Motivated
Unlike most speakers you get at a banquet, or for a Court or Bridge of Honor, you get an trained and experienced public speaker . I have a Bachelor's degree in Speech Communication Studies from Eastern Kentucky University, one of this nation's leading extemporaneous communications programs; and studied under three of the nation's leading debate and rhetoric instructors in the nation: Drs. Dan Robinette, Ted Smith, and Max Huss.
However, my public speaking experiences started way before my collegiate days, thanks to the tutorage of Colonel Tad Davis and his staff when he served as Director of Leadership at the Army's Armor School. The Leadership Department was responsible, in part, for teaching the skills of communication to new and experienced Men of Armor. Colonel Davis also served as the first Advisor of Explorer Post 294 (Communications), which later became Explorer Posts 294 and 666 (WFKE-TV and Radio), where I served as Post President and later served as Advisor.
In addition, under Ms. jasper schlinker, I served as a member of the Fort Knox High School's Speech and Debate team in my junior and senior years, and participated in several extempore speech contests all over Kentucky and outside the state. I was also a finalist in the old Southeast Region and a winner at the Council and Regional Area two years in a row in the Reader's Digest/BSA Public Speaking Contest.
---
As you can see, I am very motivated and influenced by what I've received from the programs of the Boy Scouts of America. I am a very convincing public speaker, having used my voice and humorous and less-than-humorous experiences and stories to help Councils raise monies, to recognize voluntary service, and even to honor fellow Eagle Scouts. My speeches are indexed-carded, never written word-for-word, can be tailored or even scripted but NEVER to do anything but to honor the program which has given me so much and to honor those, like me, that are so deserving of recognition by their peers and by the program.
The end result is that you, your unit, District/Council or civic/church body gets someone that have walked in the shoes of those he's speaking with: a Rotarian, an Eagle Scout with Silver and Gold Palms. A Wood Badger and a Staffer. A father and a military officer, with experiences in the European adn Southwest Asian theaters of operations. A Black man with a mission: to tell his Scouting stories to anyone that will sit and listen to him. A former Explorer, a former member of the profession of Scouting. A college graduate and a former enlisted man. A salesman and a computer "wonk".
You get me. If you want me to speak at your event or activity, all you have to do is to send me an email posting asking to place your event on my calendar. I'll take it from there!
Here are a short version and a long version of a press release your group can use to promote my visit to your group or community.
Additionally, there are photos of me in Scouting uniform with a background, a close up image and in a suit and tie for usage to help promote your event.
Here is a listing of workshop topics I can provide to your District or local Council.
---
Thanks for considering me, and if you are looking for someone different, someone experienced, and someone with a lower-than-most speaker's fees, then you've found me! I have two "brownout" times: during the month of July and the first two weeks of May, in which I am not doing any speaking engagements. In 2015, I may not be available during the month of September due to a significant personal social event.
Thanks for asking me!!
Settummanque!
---
I am generally available for:


Eagle Scout Courts of Honor


Blue and Gold Banquets


District Roundtable Meetings


District Recognition Dinners


Council Commissioners'' Conferences


Council Recognition Dinners

And other District/Council events (like Camporees!)
I am also generally available for speeches during:


Church dinners


Civic club programs


High School graduations


Panel discussions

Personally, any kind of event or activity whereby my presence would tend to assist and spur additional registration, support, and financial backing for Scouting, I'm for it....and I have a soft large heart for those events involving Black or other minority youth and adults.
Post Me!
Here are a
short version
and a
long version
of a press release your group can use to promote my visit to your group or community.
Additionally, there are photos of me in Scouting uniform with a background, a close up image and in a suit and tie for usage to help promote your event.

Here is a listing of workshop topics I can provide to your District or local Council.
---