About Being a Paraprofessional
As a adult BSA volunteer, I've been fortunate as a result of my family's and later my military experiences to have served in eleven local Councils, with positions ranging from District member-at-large to Council Commissioner; and service on three Area, two Regional and three National volunteer committees of the BSA.
I was also blessed to have worked alongside my Scouting mentor and former Area Director in Kentucky and Tennessee, William Joe Woodall as a Paraprofessional for three and half (three weeks and two days lacking the fourth year) in the eastern parts of those two states and parts of two other states. It was an experience that I regard the best of any job I've ever had...including the military ones!!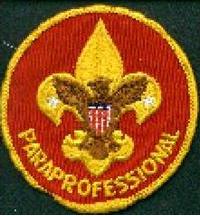 Paraprofessional badge of office...this is the one I wore proudly for over three years...
I've been able to be in "the right places doing the right things" and in the process, have met a lot of the BSA's senior and middle-level managers earlier in their careers as Field Directors or District Executives/Exploring Executives. That's a great thing, because of many of them, I've been able to answer some of your harder questions posed here on the Internet (and to shed some light on why since the BSA did not OFFICIALLY have representation out here on the Scouts-L (or any other list) until after the start of this century. As noted, I sometimes don't get it *exactly right* but I try...
I was one of 49 Paraprofesionals hired in the former Southeast Region. We participated in a five day orientation and training course near Nashville (Boxwell Scout Reservation) and then we were assigned to work within a local Council under the supervision of a senior District Executive or a Field Director. We were mentored by the Regional Area Director. As a paraprofessional, I was given camp duties and worked at Camps McKee and Blanton in Kentucky as part of my experiences. I worked alongside the Program Director and it was a great experience for me. Because I attended the National Camping School for conservation-environment directors in the past, I later got to serve as Conservation Director while at camp. I can use that experience and the work alongside of volunteers and Scouts in working with my District. As I've stated here in the past, Summer Camp is a "mini community" and allows Scouts and Scouters to truly experience the ideas of citizenship, character and personal fitness development.
Craig Brown wrote and asked me:
I noticed on your resume that you were a para-pro in the tri-state area of Tn-Ky-Va from 1978-81:
Yep. I was hired as a Regional Paraprofessional under a joint BSA/CETA (now called JTPA) project. I served in several Councils, including yours during my tenure. I worked under the supervision of several professionals, but the lead professional who signed my final evaluation was the former Area Director of Area Two, Southeast Region (W.Joe Woodall).
1. Exactly what communities in Tennessee did you serve?
I served the Tri-Cities area (with a desk in Johnson City, TN)...
The counties I worked in were Sullivan, Washington, Unicoi, Hawkins and Greene. Mostly I worked in Washington and Sullivan counties and sometimes in Hancock County.
Later, I served in west Knox and Anderson countries.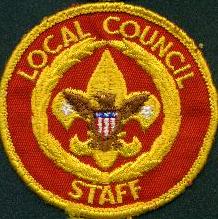 Local Council Staff badge of office...this is mine as I wore it while working in several local Councils...
2. What council did you work from?
My first assignment was in the Lonesome Pine Council, Pikeville, Kentucky, working within the Mountain Laurel District from Middlesboro, Kentucky. I worked next in Wise, Virginia and then in Johnson City, Tennessee (Sequoyah Council) to fill the gaps from quitting Parapros. I worked next in northeastern Tennessee out of Jellico, and then back up to Lexington, KY and a District out of Jackson, Kentucky. I went next to Louisville, working innercity west-end of that city and finally to the "microcity" of Lexington, Kentucky. My last assignment was with the Sciota Area Council in Maysville, Kentucky.
3. Did you ever hear of a Camp Sequoyah on Norris Lake in LaFollette, Tn?
Yeah...I didn't work there; I had to work at McKee Scout Reservation for a summer...I was supposed to work at Camp Blanton, but when the Lonesome Pine Council merged with Bluegrass, I was given the new assignment of working the "urban side" of things.
Actually, what happened was as the number of Paraprofessionals dropped (everyone "wanted to work with kids" but nobody wanted to "raise monies or start new units" (which was the purpose), those few of us who did stick it out were reassigned to areas that the grants were based upon.

Settummanque!
(More background information on my service as a Paraprofessional (the information will be updated when the entire Leaders' Online™ site will be upgraded the summer of 2013)
(for more Boy Scouting uniforming, insignia and flag information, stop by the Badge and Uniform Site).